Come out to play with us and get some more skills
Throughout the year we run several events that aren't in our schedule. They are often short notice due to the need for appropriate weather and tide conditions. But they are always different and fun.
Event details and booking instructions will be posted on this page as they become available. Spaces will always be limited and they are available on a first come, first served basis.
If you would like to be added to the list of people offered these short notice experiences then please email us using the button below:
Day Skipper Motor Package – Learn in the sunshine
What's on offer?
Learn to drive a motor cruiser at Costa Blanca Sailing – our Alicante sea school.
Noel, the principal of Get Lost Powerboat Training, is the chief instructor for Costa Blanca Sailing. He is responsible for overseeing their sailing and motor cruising training standards as well as teaching their Yachtmaster candidates.
We've teamed up with the school in Alicante to offer our UK customers the opportunity to train with Noel in the sunshine.
The package includes the required RYA Day Skipper theory course at our school in Poole. Followed by the four day practical training course in Alicante. We will be using the Jeanneau 36 Prestige shown in the video.
We only have a total of 15 places to offer.
Theory course dates in Poole
January over two weekends – 13th, 14th, 15th then 21st & 22nd
February over two weekends – 17th, 18th, 19th then 25th & 26th
Practical course dates in Alicante
March 7th to 10th – return flights on the 6th & 11th
March 14th to 17th – return flights on the 13th & 18th
April 25th to 28th – return flights on the 24th & 29th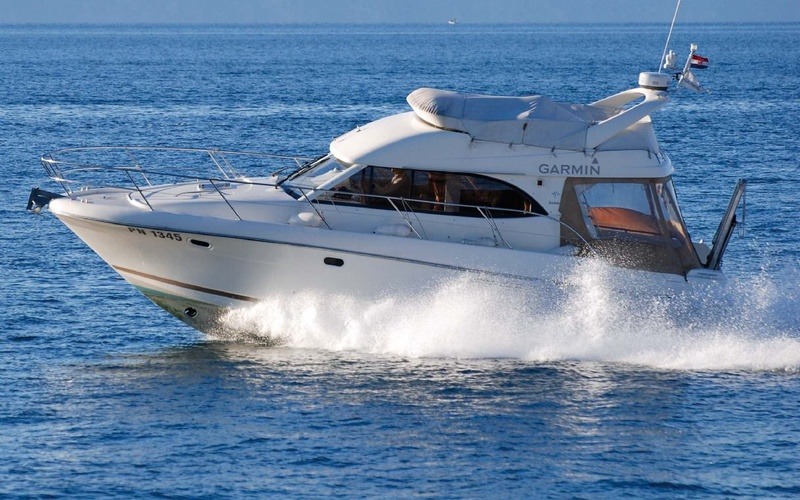 The first part of your training is the 5 day RYA DaySkipper theory course. This course will teach you all about big boat safety and how to plan a passage anywhere in the world. We run these courses at our base in Poole and at the end of the course you will have all the knowledge you need to enjoy boating on the sunny Costa Blanca in Spain.
You can find out all about the theory course by clicking HERE
The second part of your training is carried out on the motor cruiser at Costa Blanca Sailing Sea School in Alicante. We have arranged the course dates so that you can fly out from Bournemouth airport the day before your practical course begins. Your return flight is on the day after your course finishes.
During the course we will learn all about handling and mooring a motor cruiser. We'll stop at anchor and spend some time swimming. We will visit new places and follow our own passage plans. We'll run a night passage and use the GPS and RADAR. Then we will celebrate successful completion of the course by heading out for a team meal on the final night.
Finally, you will receive the RYA Day Skipper Motor qualification and be able to drive a motor boat! This will allow you to charter motor cruisers up to 24 metres in length.
The package price below includes the theory and practical courses only. Extras are your flights, hotels and dinners while we are away. We would recommend the Hotel Melia as it's right by the marina and close to the beach but there are several boutique hotels to choose from in Alicante.
In order to secure your place click the button below. Once you have booked your package dates you will get a coupon code which will allow you to book on to a theory course of your choice for free.