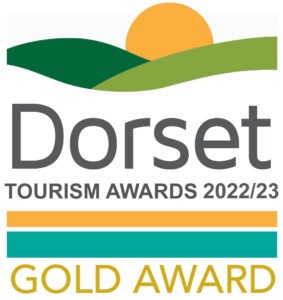 Jetski Club – Leisure For Life.
Our Jetski Club is an exclusive limited membership club.
Considered one of the best in the business, our multi award winning experiences are just what you're looking for.
Our members can enjoy access to a fleet of jetskis as often as they like.
As well as that there are a host of membership benefits that mean we've got your leisure time covered, come rain or shine, 365 days a year.
Read on to find out what they are…….
How will you use your club? Lone wolf or part of the pack?
The Lone Wolf
You sit confidently on your machine. Shades on. Favourite tunes play in your headphones.People turn and look as you press the start button and head out the marina. You don't care.
The sun shines down on a clear day. You feel the warmth as you take a look at the wind sock on your way past. A decent breeze. This is going to be fun.
Life and work melt away. It's just you and ocean…….
Part of the Pack
All your mates are laughing and joking as you get your machines into the water. The plan is to have a run along Bournemouth beach together before stopping for a breakfast roll and a coffee.
You all head out to sea, playing in each others wake. One of your friends stacks it as they jump a massive wave. It's always them!
Sunshine, non stop laughs and a drink on Poole Quay when you get off the water. That's what memories are like with your friends.
How does the Jetski Club work?
Easy to join – Easy to use
You don't need any training to join our Jetski Club. You need a PWC (Jetski) proficiency certificate to use the equipment but we will train you for free when you join.
How often can I use the jetskis?
You can have unlimited use of the jetskis all year round. Each jetski has a number of sessions per month to be shared between members.
There are three jetski sessions per day:
First Session 08:00 – 12:00
Second Session 12:30 – 16:30
Third Session 17:00 – 21:00 or dusk (whichever comes first)
How do I book?
Members have access to a simple online booking calendar so they can book at their convenience. Just pick an available date, enter your membership code and turn up.
How do I know there's enough availability?
We ensure there's plenty of space for everyone in two ways. First, there is limited availability to become a member. This way we can ensure that everyone gets enough access. We know how important this is because if you can't get enough access you'll leave the club.
Secondly, members can only hold two booked sessions in the diary at any one time on what we refer to as our rolling booking system. That means nobody can fill up the diary. Once you use one of your booked sessions you are free to book the next.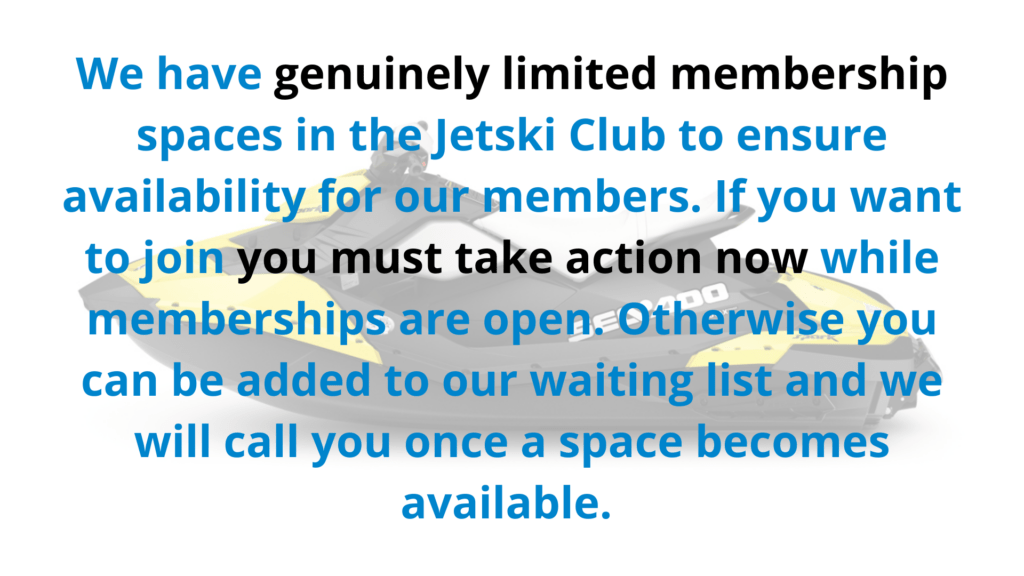 How far ahead can I book?
Bookings must be 48 hours in advance but you can book up to 12 months ahead. Perfect if you have a special date in mind.
What if I want a longer session?
Simple. Just book two sessions back to back.
What about insurance?
All Jetski Club members are covered by our insurance policy.
What about refuelling?
Members are responsible for their own fuel costs. Fuel is available within the harbour at Salterns Marina.
If you don't want to take the time to refuel yourself, we will do it for you for a small labour charge on top of the fuel cost.
Where do we meet?
We meet at Poole Quay Boat Haven at the beginning and end of every session. Parking is available in the multi story car park.
How long does my membership last?
Memberships to the Jetski Club are a 12 month minimum contract.
What does it cost?
£250 one off joining fee
Annual membership is £300 per month for six months. You get 12 months unlimited use.
Get Some Excellent Bonus Extras When You Join
Bonus #1
All Members Joining in 2023 get an Unlimited membership to Cineworld.
We're giving our Jetski Club members free cinema at Cineworld as often as you like. That means you've got something to do on the rainy days too.
See any film any time, as many times as you like
Get 10% off snacks and drinks and a free popcorn on your birthday
Advance screenings of upcoming releases
50% off Event cinema – from the Opera, National Theatre, live sports and gigs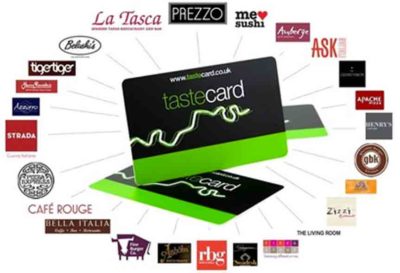 Bonus #2
Free Tastecard Membership
Your Cineworld membership also includes a free Tastecard. This comes with loads of membership benefits and means you can get a great meal every time you come off the water after a great day playing with a jetski….
2 for 1, 50% off or 25% off at 1000s of UK restaurants
50% off pizza delivery
Cinema ticket discounts
Discounted days out at the UK's best attractions
25% off barista-made drinks with Coffee Club
Bonus #3
Get Your RYA Qualifications For Free
We will train you for free when you join the Jetski Club. In order to use the equipment as a Club member you have to hold the following qualifications:
RYA PWC Proficiency – £279
RYA VHF Radio – £99
Total value of training £378 – Yours for free when you join the Club
28 Day Happiness Guarantee
We realise that it can be hard to commit to something, no matter how awesome it is, when you are dealing with a strange company and people you have never met. We want you to feel completely comfortable as you get to know us and what it's like to be a member of our clubs. If you find that you're not happy with your decision within the first 28 days then you can leave and we will return your money, no questions asked. All we ask is that you pay for any training courses you have had. You can't say fairer than that.
I attended the VHF Radio course which was run by Get Lost Powerboat Training and thoroughly enjoyed myself, our instructor Jamie was very knowledgeable and explained everything clearly and indepth , also answering any questions thrown his way, I would highly recommend anyone wanting to do this course to give them a call. Scott
Amanda White Health
2022-10-31
Great course. I would definately recommend it.
A very enjoyable and informative course. The practical sessions are invaluable and you came away feeling confident about having to use a marine radio, particularly in an emergency. I'd recommend this hands on course with a very knowledgeable and experienced instructor.
It was a really good experience and will be booking up for next course. The staff were very friendly and made it enjoyable to learn
A fantastic week of training by Jamie. The facilities are first class, there is a lot of information to take in over the course of 5 days but the course is structured so well that the information sinks in day by day so that come Friday when you sit the exam you will have all the information you need to pass. A great experience and i would recommend anyone thinking about the day skipper theory course to book it with Get lost Powerboat training.
Great course and fun, helpful and very knowledgeable instructor.
Highly recommend Get Lost Powerboat to everyone! The company is so personal and friendly, I had a limited schedule and due to bad weather the course was set to be cancelled but they did all they could to cater for me which was so kind! Nathan is a great instructor. He gave such clear and informative instructions that were easy to follow and made the whole day really fun and enjoyable. We had both rain and sun during our training and the wet weather didn't ruin our experience at all. Thank you to Emily and Noel for all your help. GET YOUR POWERBOAT TRAINING HERE PEOPLE!!
Get Lost is the perfect team for your boating certification. Their classroom is a 2-min walk from the boat and there is a car park around the corner. They perfectly balance theory and practical (with most of the time on the boat). Emily was not just a great instructor but great fun too. Can't recommend these guys enough.
Mark Sutherland
2022-09-17
Awesome course, great company. Emily is an awesome instructor, all 3 of us thoroughly enjoyed the 2 days.
nathan ricketts
2022-08-29
Fantastic course (level two powerboat) Emily was a great instructor. Brilliant rib, quality kit and everything explained so you learn properly. Started as a complete novice and now could confidently take a boat to water with the skills we've learnt. Would recommend to anyone. Great people.
Register Your Interest Using The Form Below