Call us on 01202 923 060 (09:00 – 16:00)
RYA JETSKI COURSE BUNDLE – £279 per person
Includes FREE VHF Radio Course Worth £99
Lunch and snacks included
Includes use of jetski and fuel
Thrash the waves with this high octane power sport
Everyone loves a jetski and you're no stranger to fun yourself.
You can't help it. Every time you straddle a jetski you can't stop grinning from ear to ear. A little switch goes off in your head and you become a wave skimming, turbo charged speedster. Nothing can catch you.
But there is just one problem isn't there?!
Whenever you hire one you have to either follow the leader from the hire centre or stick to a prescribed area away from all the beach fun.
Join our one day RYA Personal Watercraft Proficiency / Jetski course and you can get a course completion certificate, allowing you to have fun anywhere in the world.
This one day course is the minimum legal requirement for you to gain a Personal Watercraft Certificate of Competence. It's exactly what you need to gain an International Certificate of Competence (ICC) to hire jetskis, unsupervised, while on holiday abroad or anywhere else.
Read How We Helped Kovac – a jetski owner
I have my own jetski that I keep on a trailer at my house in Poole. Now I am told that all jetskis in Poole harbour need a permit to launch. To get a permit you must have the PWC Certificate.

I got mine with Get Lost Powerboat Training. It was a fun day and they have their own jetskis for training. Now I can use my jetski wherever I like. The certificate also works abroad with my ICC so I'm very happy with that too.

Kovac ⭐⭐⭐⭐⭐
Your Unique PWC Course Guarantee AND Our Cast Iron Promise
Royal Yachting Association courses are all pass or fail courses. This is a really good thing as this high standard is what makes the qualifications respected around the world. BUT it means that you must attain certain criteria in order to pass.
If you decide to join us for your RYA PWC (Jetski) course, we give you a unique guarantee. Obviously we can't guarantee you will pass as that's down to you but we promise that you can retake the course FOR FREE as many times as you like until you do pass. It's unusual but sometimes we all have a bad day.
Why do we do this? Because we believe in our teaching methods so much that we feel responsible for your outcome. And if we believe that, I mean really believe it, then the financial risk should sit with us.
Free Pizza With Every PWC / Jetski Course
The RYA PWC Proficiency course is a long day of fun on the sea.
We know that everyone's the same. After a day of fun activity we're all hungry.
So once you've put the jetskis away, got changed and arrived back at the classroom for your end of day debrief – there will be fresh pizza waiting for you.
AMAZING!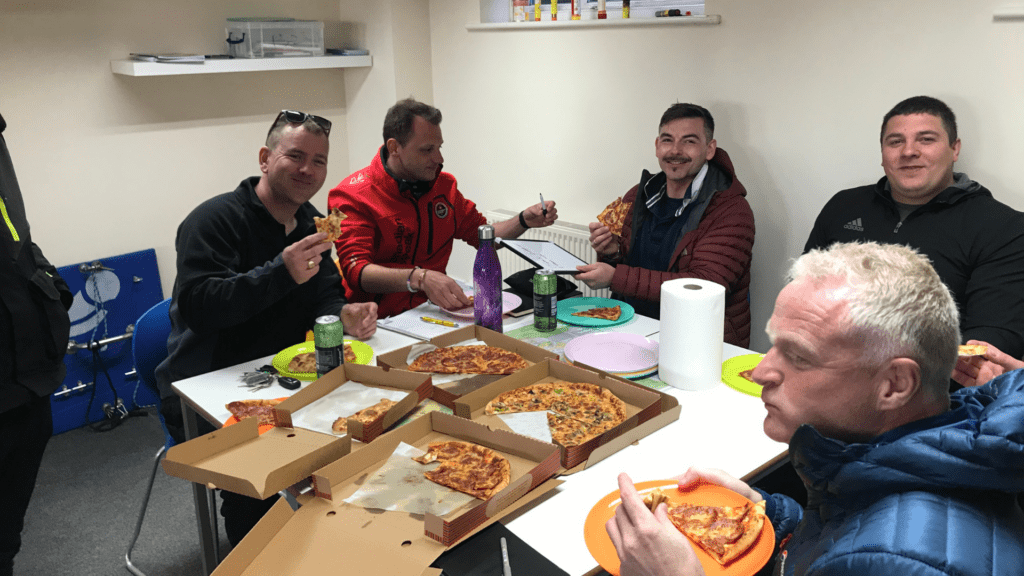 Good, well-maintained boats, good instruction. Fun couple of days.
Having bought a jet ski I thought it sensible to have some training. So glad I did. I attended the course with a very practical instructor. An hour in the classroom learning some essential bits then the rest of the day on the water. Brilliant and so useful. I now appreciate the harbour rules. I enjoyed the course and learnt so much. Thank you Noel and the team. Les Peaty
Went for the two day Powerboat Level 2 course. The pace was perfect, they got us out on the water within the first few hours and Emily took her time to explain everything. It always felt like we were naturally moving onto the next section rather than working through a curriculum. Really lovely experience.
A great couple of days doing the Powerboat Level 2. Emily was a great instructor and covered everything from boat handling and manoeuvring to navigation and trip plotting. A very informative and worthwhile course.
Excellent set up and knowledge based company, would highly recommend, I attended the PB 2 & the VHF coarse, great location.
I have just recently completed two courses at Get Lost powerboat training at Poole.The first being my VHF Radio course,and the second Essential Navigation course.As these courses were only short,one day and two days,there was a lot to take in.Having said that,Noel and his teaching staff were excellent and went above and beyond to make sure you completed these courses.Everything was done in a relaxed way to put you at ease.If there was anything I was unsure about the team took their time to make sure I understood things clearly before moving on.This really helped my confidence and needles to say I passed both courses.This was the second time that I have used Get Lost powerboat training,and if I am wanting to do more courses in the future I will certainly be using them again.Once again a big thank you to you Noel and your team.Kind regards,John Mather.
Simone Talfourd
2022-06-21
I did my PB2 and my VHF course with Get Lost Powerboat Training and would highly recommend them. Fun, enjoyable, safe and really knowledgeable.
Really enjoyable and informative experience, learning made easy with a bit of good humour along the way.
I just completed my 2 day powerboat training course with Nathan. The course was excellent - very well thought out. I learnt a lot more than I thought I would, both on the practical and navigational skills side. Nathan was an outstanding teacher - a natural. I can see why this company get so many 5 star reviews. I'll definitely be back to book more courses and I look forward to doing so. I recommend the powerboat level 2 course to anyone looking to get into boating.
Really thorough and well managed course with (very) patient staff who go the extra mile to make sure you really understand each step. Highly recommended.
What else is included?
We also include a number of extras with this course bundle.
✅ RYA Personal Watercraft Handbook.
✅ Use of everything you need. Wetsuit, impact vest etc.
✅ Free Retake Guarantee
✅ Course completion certificate / photo ID.
FREE RYA VHF Radio one day classroom course worth £99
RYA JETSKI COURSE BUNDLE – £279 per person
Includes FREE VHF Radio Course Worth £99
Includes use of jetski and fuel
ONLY 6 SPACES ON EVERY COURSE
Minimum Duration – 1 day
Free Pizza At The End Of The Day
Minimum age 12 however all children under 16 must be accompanied on the course by a paying adult