RYA PERSONAL WATERCRAFT (PWC) COURSE
/ JETSKI COURSE
RYA JETSKI COURSE BUNDLE
Includes FREE VHF Radio Course Worth £99
ONLY 6 SPACES ON EVERY COURSE
Minimum Duration – 1 day
Free Pizza At The End Of The Day
Minimum age 12 however all children under 16 must be accompanied on the course by an adult
Call us on 01202 923 060 (09:00 – 16:00)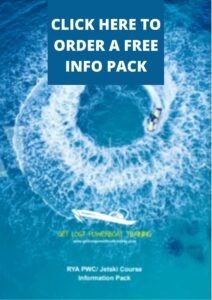 Thrash the waves with this high octane power sport
Everyone loves a jetski and you're no stranger to fun yourself.
You can't help it. Every time you straddle a jetski you can't stop grinning from ear to ear. A little switch goes off in your head and you become a wave skimming, turbo charged speedster. Nothing can catch you.
But there is just one problem isn't there?!
Whenever you hire one you have to either follow the leader from the hire centre or stick to a prescribed area away from all the beach fun.
Join our one day RYA Personal Watercraft Proficiency / Jetski course and you can get a course completion certificate, allowing you to have fun anywhere in the world.
This one day course is the minimum legal requirement for you to gain a Personal Watercraft Certificate of Competence. It's exactly what you need to gain an International Certificate of Competence (ICC) to hire jetskis, unsupervised, while on holiday abroad or anywhere else.
Your Unique PWC Course Guarantee AND Our Cast Iron Promise
Royal Yachting Association courses are all pass or fail courses. This is a really good thing as this high standard is what makes the qualifications respected around the world. BUT it means that you must attain certain criteria in order to pass.
If you decide to join us for your RYA PWC (Jetski) course, we give you a unique guarantee. Obviously we can't guarantee you will pass as that's down to you but we promise that you can retake the course FOR FREE as many times as you like until you do pass. It's unusual but sometimes we all have a bad day.
Why do we do this? Because we believe in our teaching methods so much that we feel responsible for your outcome. And if we believe that, I mean really believe it, then the financial risk should sit with us.
Free Pizza With Every PWC / Jetski Course
The RYA PWC Proficiency course is a long day of fun on the sea.
We know that everyone's the same. After a day of fun activity we're all hungry.
So once you've put the jetskis away, got changed and arrived back at the classroom for your end of day debrief – there will be fresh pizza waiting for you.
AMAZING!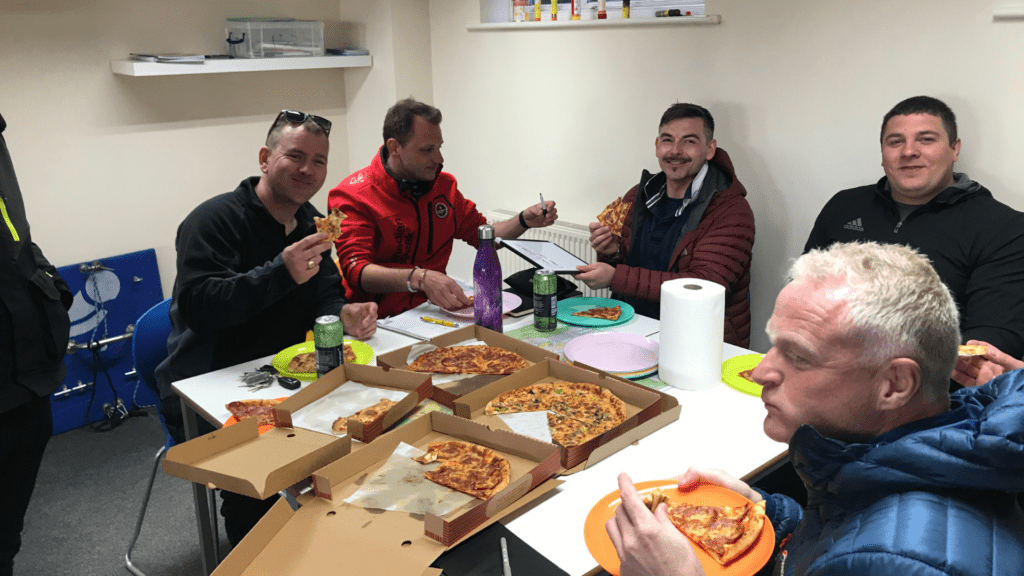 OR CALL US ON 01202 923 060
Our RYA PWC / Jetski On The Water Bundle
We include a free VHF / SRC Marine Radio course with our PWC / Jetski courses.
The one day VHF / SRC marine radio course will teach you how to use a DSC radio. Quite simply, this is a really important safety device in case you need help while on the water.
We believe in it so much that we insist our Jetski Club members take the course and we loan them radios whenever they go afloat. It's free with this course saving you £99.
Call us on 01202 923 060 (09:00 – 16:00)
What else is included?
We also include a number of extras with this course bundle.
✅ RYA Personal Watercraft Handbook.
✅ Use of everything you need. Wetsuit, impact vest etc.
✅ Free Retake Guarantee
✅ Course completion certificate / photo ID.
FREE RYA VHF Radio one day classroom course worth £99
FREE RYA VHF Handbook worth £12.65
FREE Get Lost Powerboat Training neck warmer worth £9.99
TOTAL SAVING OF £121.64
You must not take part in this activity if any of the following apply to you, without first obtaining your doctors approval which we will need to see before allowing you to take part.
1. You suffer from heart disease, high or low blood pressure or any cardiovascular problem unless satisfactorily controlled by appropriate medication/treatment.
2. Undiagnosed pains in your heart or chest, particularly associated with minimal effort.
3. Breathing difficulties, including asthma where this is not satisfactorily controlled by medication.
4. Epilepsy where this is not satisfactorily controlled by medication.
5. Back pain or limited movement in any joint, particularly where this is made worse by exercise.
6. You are recuperating from any serious illness, injury or operation.
7. You are currently pregnant or have recently given birth and experienced any difficulties during pregnancy.
8. You are taking medication which may cause drowsiness.
9. You have frequent episodes of feeling faint or spells of dizziness.