Call us on 01202 923 060 (09:00 – 16:00)
RYA Powerboat courses follow a progression ladder that builds a students learning. It can be difficult to understand this path when you are first looking in to training. This page will hopefully help you understand the course ladder and the ancillary courses that are recommended at each stage.
RYA Powerboat Level 2
The RYA Powerboat Level 2 course is the starting point for most people. There is a level 1 course but it is really aimed at children. The level 2 is the minimum requirement for hiring boats while on holiday.
The PB2 as we call it, is a 2 day practical course. You will spend the majority of your time on a boat like the one below.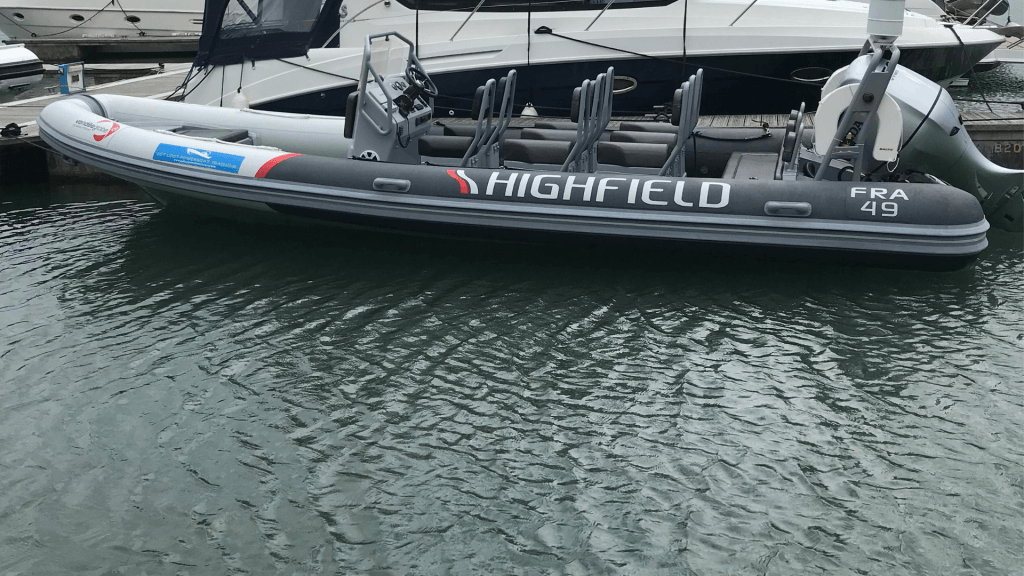 Boats like this, called RIBS make excellent training boats. This is because they have rubber sides. They will bounce of things if you have a slight knock when you are learning.
They are very capable work boats. The term RIB stands for rigid inflatable boat. The rigid part refers to the fibre glass hull and the inflatable part obviously refers to the rubber tubes.
The PB2 course has a focus on safety and manoeuvring. Over the two days you will learn about the effect of wind and tide on the boat. You will carry out tasks such as turning in a confined space and bringing the boat alongside a pontoon to park. We call this mooring or coming alongside.
You will also learn the basics of handling the boat at speed. This is both in a straight line and turning corners. You will also learn about emergency procedures such as what to do if somebody falls out and how to recover a person from the water. This is also great to learn as it's the same for picking up swimmers or water skiers for example.
Recommended with a RYA Powerboat Level 2
The RYA do a VHF radio course that is recommended to compliment RYA powerboat courses.
The VHF radio (very high frequency) is the main means of communication on the sea. It has several advantages over a mobile phone.
For example, you may not get signal at sea as there are no phone masts. Whereas a VHF radio works for up to 40 miles off shore. The radio is also a broadcast system. That means you can talk to lots of people at once in an emergency. A phone only lets you talk to one person at a time.
RYA Intermediate Powerboat
The RYA Intermediate powerboat course is the next level after PB2. It is also a two day practical course. This course is very exciting as the emphasis is on navigation and heading off to new places.
There is more boat handling practice but by the end of the course you will be able to plan a trip down the coast to a different marina or destination.
Before taking this course it is recommended that you have learned some navigation theory. This can be either the two day essential navigation course or the five day Day Skipper theory course. Both of these navigation courses compliment RYA powerboat courses very well. If you want to go somewhere you need to know how to make a plan. You can find out lots more from the links below.
RYA Advanced Powerboat course
This course is for people who want to take their boating to a professional level. There is an optional exam after this two day course that will allow you to operate a boat commercially.
The emphasis for this course is navigation at night time. You will be out till the small hours of the morning following navigation plans that you made during the day.
Qualifications and courses recommended to go with this advanced training are quite thorough.
You will need a VHF licence, a current first aid certificate, knowledge of RADAR and navigational theory to the level of Yachtmaster. Yachtmaster is the highest qualification in the RYA training schemes.