RYA Day Skipper Theory
You can call us on 01202 923 060 (09:30 – 16:00)
Maximum 9 students per course
Free set of Knowledge Cards sent to you when you book
Lunch provided every day
We put loads of thought into why you would want to choose us for your Day Skipper Theory training…..
As a result of putting you first in our thinking we believe we have come up with the best value course possible that will ensure you get the results you want.
It's all about going boating at the end of the day!
All you need to do is turn up ready to learn about your passion. You don't need to bring anything with you.
The day skipper course is an intense 5 days.
To help you get prepared you will receive a set of our unique knowledge cards when you book. They will be sent out to you in first class post so you get them as quickly as possible.
We will tell you what to study so you can arrive full of knowledge and get a great head start on the course.
It's our job to get you the best result possible and prepare you for your practical RYA Day Skipper course. We take your investment of time and money as seriously as you do and we want you to get the most out of your hobby.
We share your passion.
What is the RYA Day Skipper Theory course?
The RYA Day Skipper theory course is a classroom navigation course. If you want to be Captain, you need to know this stuff.
The course requires a minimum of 40 hours study and this is made up of both classroom time and homework assignments.
There are also two exams during the week that need to be passed in order for you to get the completion certificate. Our Knowledge Cards will give you a great head start on these.
What you will learn:
Basics of seamanship
Chartwork & GPS
Position fixing
Plotting a course
Weather forecasting and meteorology
Tides
Collision regulations
Emergency and safety procedures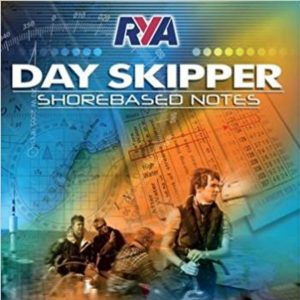 Who is going to teach you?
Our theory instructors have done it. They have travelled the world and seen distant shores. They have led crews through storms and high winds. Known battered rigging and rocky coves. Adventure is in their blood and they will share all that knowledge and experience with you. Stuff you can't get from a text book.
All our theory instructors are Yachtmasters. That means that they are at the top of their game and there is nobody better than that to teach you. During your time with them you should make the most of their knowledge and experience. Ask them questions about anything you want to learn and they will be happy to help. All of them genuinely care about your outcome.
Why take your course with us?
The Day Skipper theory course is an intense course and there is a big learning curve to overcome.
We understand that everybody has different learning styles and we have had the practice to make sure we meet your needs as a student.
We will share lots of resources with you so that you can find the best way to learn. The way that fits you.
Our RYA Day Skipper Theory Free Re-Sit Guarantee
We know how important this course is to you. It's literally the gateway requirement to your practical course, your ICC and your holiday dreams.
We take our involvement in your learning seriously and as such truly care about your result.
There are no free passes at our school and you will have to achieve the required result on your own.
However, if you don't manage to do that first time you can come back to us and resit the course again for free.