A VHF Mayday call is a radio call used to summon the emergency services on the water. Or even help from another vessel if they are close by. It's a way of shouting out to everybody that you need help. You can only make a VHF Mayday when there is 'grave and imminent danger to a person, vessel, vehicle or aircraft. This would mean you were in distress.
It is a type of radio call made over the VHF marine radio system and it has a particular format.
VHF MAYDAY CALL FORMAT
MAYDAY MAYDAY MAYDAY
This is ______________ (name of vessel three times)
Call Sign ______________
MMSI number ______________
Mayday
Vessel name ______________
Call Sign ______________
MMSI number ______________
My position is ______________ (what is your latitude and longitude?)
I am ______________ (what is your distress?)
I require immediate assistance
I have ______________ (how many people on board)
______________ (any other information)
Over
VHF MAYDAY CALL VIDEO EXAMPLE
I think you'll agree that this is an Oscar worthy performance ?
Everything is there in the video and it is spoken clearly and not rushed. You want to make sure that people listening to your message are able to understand it first time.
There is a mnemonic to help you remember the format for a Mayday message. The mnemonic is MIPDANIO
It stands for: Mayday, Identifier, Position, Distress (nature of), Assistance required, Number of people on board, Information (anything relevant), Over.
DSC DISTRESS ALERT
Many marine VHF radios are fitted with a DSC distress alert button like the one shown in the photograph below.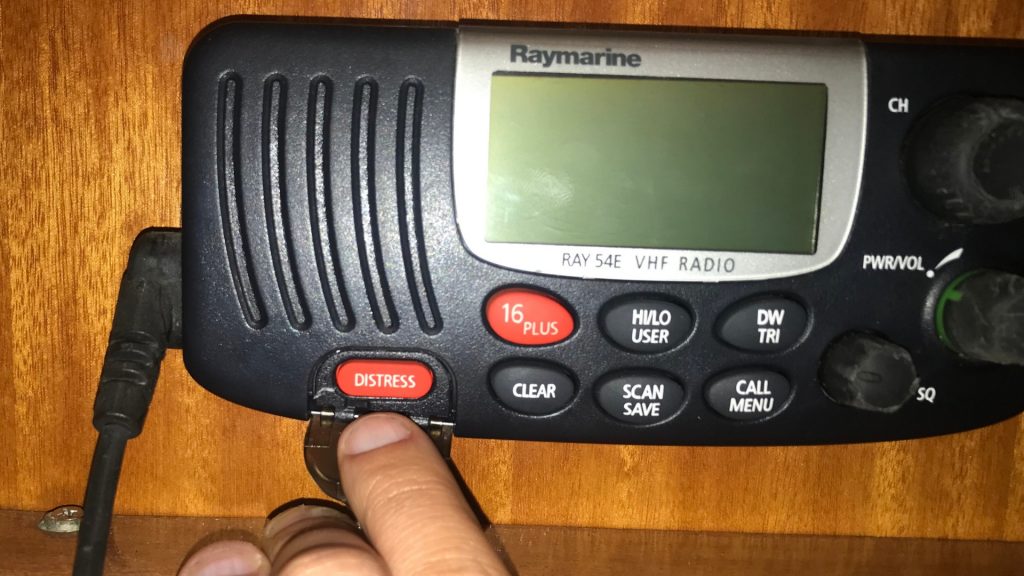 By pressing and holding this button you will send of a digital Mayday alert to the coastguard and the search and rescue services. It will tell them that you need help, include your MMSI number so that they can identify you and let them know your position. It can be connected to your GPS so that you can send your position automatically. Or you can enter your position manually.
---
Our complete set of Knowledge Cards are available from our shop