Introduction to the RYA Advanced Powerboat Course
During this two day RYA advanced powerboat course we train you in both day and night time passages. You will need Yachtmaster level navigation knowledge and plenty of experience in order to take on the challenge.
You'll learn about advanced boat handling, night time pilotage, search patterns and more. This is the first step towards gaining a commercial licence and going pro. Therefore, the standards required to pass are pretty high.
As well as the Yachtmaster theory course it's strongly recommended that you hold a VHF radio licence and a first aid certificate as well.
Maximum 3 people per course.
The boat we use for RYA advanced powerboat courses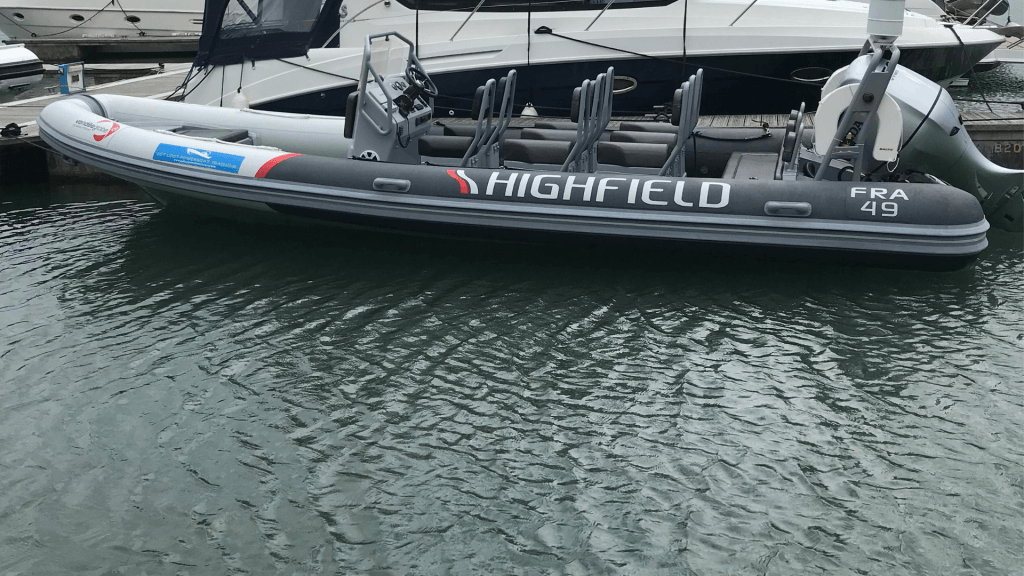 The Highfield 760 is less than a year old. It is fully coded to commercial standards. That means that it carries all the safety equipment to go out in the dark. It has seats for 10 people. Holds two 6 man life rafts, and has a 250hp Honda engine.
She's the perfect vessel for the course. So good in fact, we use her commercially throughout summer to carry passengers. She's the same model used for the Vendee Global race support as well.
The RYA Advanced Powerboat Course Syllabus
The elements of the course include the following:
Prepare the powerboat and carry out fuel and engine checks.
Differences for a twin engine vessel.
Characteristics of various hull forms and propeller configurations.
Action to be taken in rough weather.
Demonstrate a practical understanding and correct use of power trim and trim tabs.
Develop an awareness of the effects of wind and tide when manoeuvring, including:
Steering in transits and in buoyed channels.
Turning in a confined space.
Berthing in various conditions of wind and tide.
Picking up and leaving a mooring buoy.
Demonstrate the use of an appropriate length of kill cord at all times.
Planning and making coastal passages, taking into account the relevant navigational hazards, the type of boat and the strengths of the crew.
Chart plotters and radar, their advantages and limitations.
Organise the navigation, safety and welfare of the crew during a powerboat passage.
Navigate at higher speed using time / distance calculations.
Use electronic navigational equipment for planning and undertaking a passage, including the use of waypoints, routes and XTE, SOG, COG, BTW, DTW.
Carry out pilotage plans and pilotage entry into or departure from harbour.
Use leading and clearing lines, transits, back bearings and soundings as aids to pilotage.
Navigate using depth soundings.
Terms used in shipping forecasts, inclusing the Beaufort Scale, and their significance to small craft.
Sources of forecast information and interpretation of forecasts including synoptic charts.
Apply the International Regulations for Preventing Collisions at Sea.
How to change a propeller.
Propeller diameter and pitch.
Propeller ventilation and cavitation.
Checks to be made before starting, during running, and after stopping for diesel and petrol engines.
Periodic checks on engines and electrical systems including spark plugs, water filters and pump impellers.
Correct action to take in emergency situations.
Fire prevention and fighting.
What to do in a medical emergency.
Towing and being towed.
Helicopter rescue procedures.
Use of flares.
Search patterns.
Pick up a man overboard in all available conditions.
Take charge of a powerboat at night, including leaving and entering harbour.
Demonstrate ability at keeping a proper lookout and identifying lit and unlit marks by night.
So what's the price then?
The price for this course is £320. This includes all the fuel, mooring fees and everything needed to complete the course.
After successfully completing this course you will be able to go forward and take the RYA/MCA Advanced Powerboat Certificate of Competence and become a commercial skipper.
Summary
Author Rating
Brand Name
Product Name
Advanced Powerboat Course
Price
Product Availability